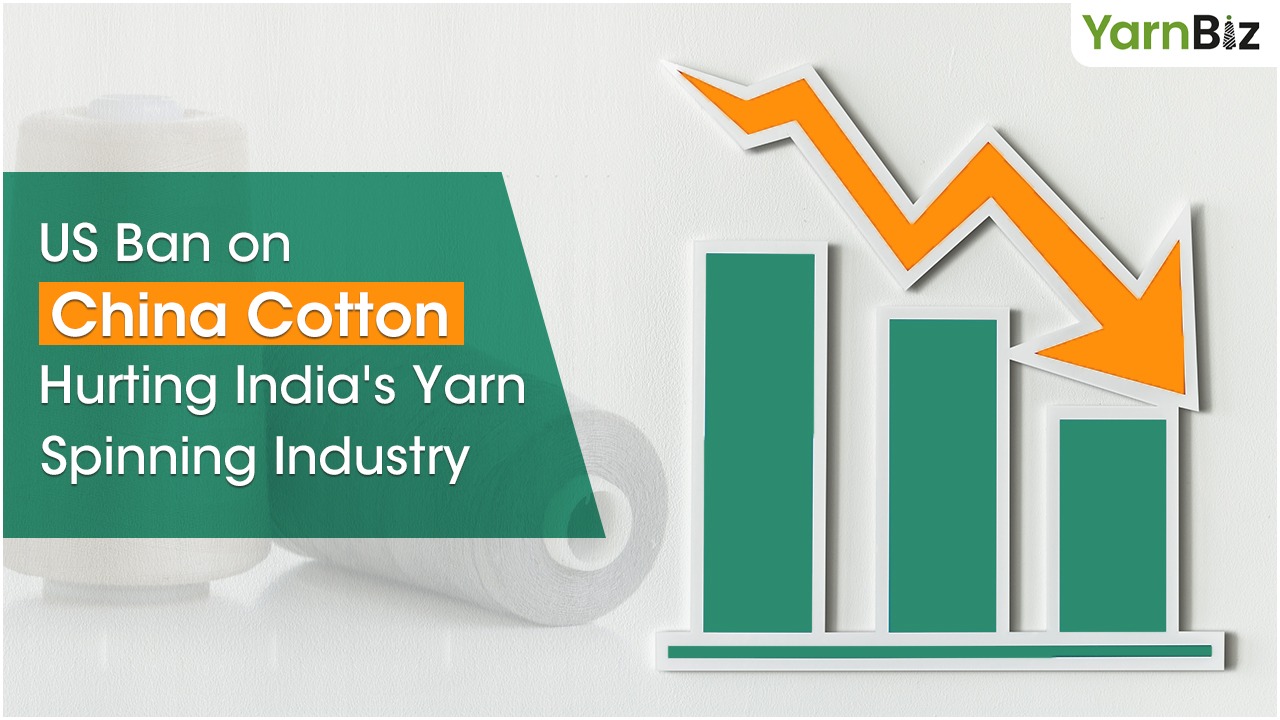 US Ban on China Cotton Hurting India's Yarn Spinning Industry
When looked at historically, India has always been a big player in the global textiles market. With only China as India's biggest competitor, the nation has enjoyed a dominant position in the market. But over the year 2022, when it comes to synthetic fibres and especially yarn production, India has observed a significant decline in sales and production.
To trace the state of the yarn spinning industry in India today, we need to understand its situation in the previous year. It began late last year when the United States of America President Joe Biden signed a law that banned the import of cotton products from China, particularly the Xinjiang Uyghur Autonomous Region. The Xinjiang province is a controversial region and is subject to alleged human rights issues raised against the Chinese government. In the United States textile fabrics market, China had a 22 per cent share and 12 per cent of the yarn market was made up of imported material from China.
Till September 2021, Indian cotton yarn was the cheapest in the world in the global market. This meant having prices of around Rs. 51,000 per candy (or 356 kg). As the trade situation between US and China got intensified, the cheaper alternative of Indian cotton yarn by April 2022 became even more expensive by, reaching Rs.1.1 lakh per candy. The rate at it which Indian cotton prices increased was much faster than the global cotton prices.
Historically, Chinese yarn was always considered the pricier option. But following the implementation of the US ban in June 2022, looking for new markets, Chinese cotton yarn was being sold at cheaper rates. This even meant having 20 per cent lower rates than domestic Indian prices. India imported 414.868 kg of cotton yarn from China in the year 2021. In comparison, between the months of January to July, India had already imported 466,623 kg of cotton yarn from China. In monetary terms, India imported $568m worth of cotton from April to July of 2022, compared to $259m worth of imports in all of 2021. Even with the 18 per cent customs duty and other taxes, it was cheaper for India to import cotton yarn from China than to buy it domestically.
The US ban on Chinese cotton and yarn could have been a boon for India. But as its global prices increased and the tactical approach by China to sell its cotton at cheaper rates was implemented, it hurt the Indian cotton yarn market and gave far-reaching consequences. Over the last six months, there has been a huge decline in yarn production, with half of the mills remaining idle. India slipped to the 5th position in the global rankings for synthetic fibres and yarn production.
With Indian cotton and yarn getting priced out by China and Pakistan and 50 per cent of the production mills at rest, the state of Indian cotton textiles and yarn remains in a state of flux as of the writing of this article.